| | |
| --- | --- |
| kandbsmom | 12-16-2007 01:05 AM |
---
3 month old with H on scalp

Hi everyone,
I am new to the site, and was very happy to find it- what a great resource it is!!
My daughter is 3 months old, and has a hemangioma on her scalp/forehead, it's under her hairline, but she hardly has any hair so it's very noticeable. Like hemangiomas go, it started off as a pink mark and has grown rapidly. After 3 consults with plastic surgeons, we have decided to get it surgically removed for various reasons and feel it's best for her to take this route. Her surgery is scheduled for Jan.29 when she'll be a little over 4 months old.
I am going to try and post pictures below...
I am a bit worried about the scarring, but I am hoping that her hair will eventually cover it up. Anyone have experience with a hemangioma removed from this area? Or have an infant this young go under general anesthesia? What should I expect after the surgery?
I would love to hear your experiences
thanks!!
Jen
mom to Brendan (7 years old)
and Kayleigh (born 9/8/07)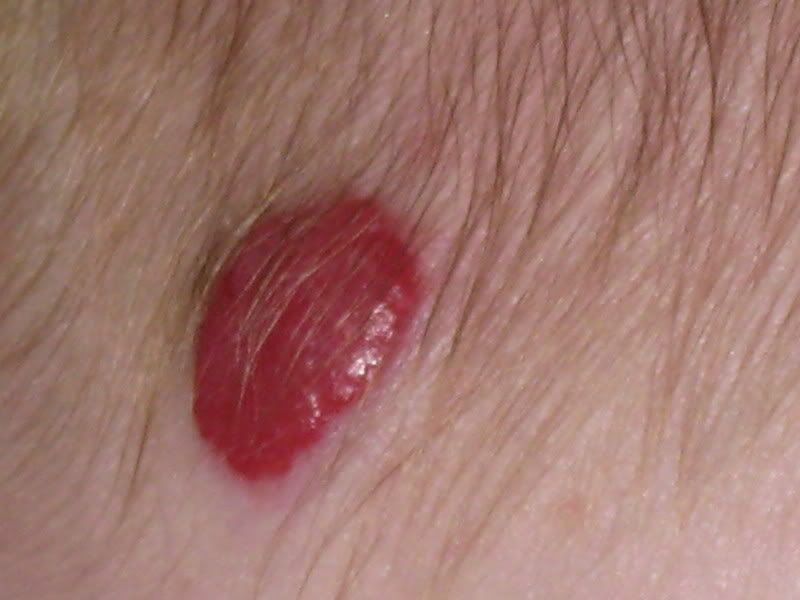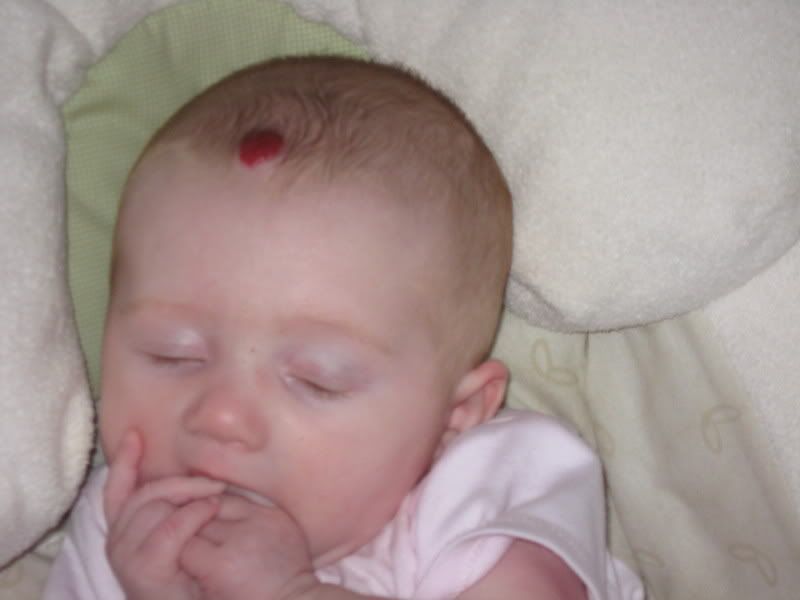 | | |
| --- | --- |
| kandbsmom | 12-16-2007 01:07 AM |
---
Sorry the pictures are so big!!!
| | |
| --- | --- |
| missy | 12-16-2007 01:01 PM |
---
She sure is gorgeous!

Mostly, there are very few problems with removal at this age. It won't take very long, but the anesthesiologist will probably stay with her and monitor her for the whole surgery. Also, her hair will cover up any scar, but at that young age, I'm betting she won't have any scarring issues anyway.

Others will come by and reassure you also. Please come back and give us a post surgery update after the 29th!

Missy
| | |
| --- | --- |
| emonaco | 12-16-2007 06:22 PM |
---
Hi,

Can I ask who is removing it? Has it stopped growing yet? Our two month old daughter has one a little bit bigger on her eyelid and we are also planning to have it removed eventually. But, my understanding was that if it should not be removed until it stops growing to avoid more than one sugery.

But, it is now getting bigger and causing a small amount of astigmatism...so I think we really need to have it removed now.

Elizabeth
| | |
| --- | --- |
| kandbsmom | 12-16-2007 11:48 PM |
---
Missy - thanks for the reassurance!
Elizabeth - We live in North Carolina, and Dr.Lafairve (I may have spelled that wrong) in Charlotte will be removing it. I have also gotten a consult from Dr. Freeman, and an email consult from Boston Childrens (where we are originally from) No, it has not stopped growing, but I was told it would be easier to remove when it is small and it wouldn't come back. We are opting not to do any laser treatments, since it will leave her with a bald spot, and we were told she would be left with a bald spot if we didn't remove it and she would end up needing some sort of plastic surgery later on. Have you gotten a consult about your daughter yet?
| | |
| --- | --- |
| aussiechick | 12-17-2007 01:38 AM |
---
Our daughter had her H removed at 4.5mths. I was amazed at how easy it all was. The worst part was before the surgery as she was so hungry and wasn't allowed to eat for about 6hrs before the surgery. We were lucky that the surgery was scheduled for 7am. If you can, try to get an early morning time. Ashleigh's surgery was about 1hr, then 45 min in recovery. She didn't cry when she woke up, just smiled at us, then went back to sleep. A few hours later she woke and had a bottle, we gave her some panadol, then back to sleep. In hindsight she probably didn't need any painkillers. The next day was back to her normal self. You will really be amazed how easy it is. I know it is hard to think of your baby going under a GA, but babies are amazing! Best of luck with everything. I have photo's under 'surgery complete' posting.
| | |
| --- | --- |
| pichpaw | 12-17-2007 02:44 AM |
---
I second the above post. My (then 4 1/2 month old) son had surgery to remove his H next to his eye and also flew thru the surgery easily and was back to his normal self right away. He is now 8 months old and his scar is healing so well--just looks like he scratched himself. Good luck to you!

Zoe
| | |
| --- | --- |
| kandbsmom | 12-17-2007 03:03 AM |
---
thanks to the above 2 posters - it makes me feel better to hear of your positive experiences!! I am very,very nervous about putting her under general, since I could never forgive myself if something were to happen to her..
she does have a surgery time of 8am, so hopefully she won't be too hungry. I just pray we are making the right decision for her...the whole thing is so difficult, and I often think "why my child?".. but then I think I know it could be alot worse and she could have cancer or a heart problem and I thank my lucky stars that she is healthy. It's still hard to deal with though... at playgroup, kids ask if she bumped her head, what's that "ouchie", etc... and I don't want to have her deal with being different, you know??
| | |
| --- | --- |
| aussiechick | 12-17-2007 05:11 AM |
---
i think we can all relate to your feelings. It is exactly what we have experienced. I am sure the surgery will be great, and over before you know it! It is the best thing we ever did. That is how confident we are that we have made the right decision for our little girl and we have put all the doctor's appointments etc behind us...
| | |
| --- | --- |
| mmarrari | 12-17-2007 01:16 PM |
---
What a cutie! I am glad you were able to get early intervention. I am sure everything will go fine during surgery. My daughter Valentina (now 16 months old) has been through 2 surgeries and 4 GAs total so far and every time I was a nerve wreck, but she did wonderful. In her case, after her first surgery the hemangioma grew right back, but this happened because 1) the H was only partially removed and 2) she had just come out of 9 months of steroids right before surgery so this was probably rebound growth. The second time they removed he entire H and so far so good. You can see her story at
http://www.youtube.com/watch?v=LSXQIwdeoVQ
Good luck with surgery and we'll be thinking about you!
Marina
All times are GMT. The time now is

06:08 AM

.
Powered by vBulletin® Version 3.6.5
Copyright ©2000 - 2016, Jelsoft Enterprises Ltd.