- -
Hi everyone!
(
https://birthmark.org/board/showthread.php?t=2740
)
| | |
| --- | --- |
| annalbc | 01-20-2008 05:56 PM |
---
Hi everyone!

Sorry for the long hiatus, but i am back and wanted to share good news/with questions!
We had her surgery 9/4/07 for her H removal on her head (some of you knew that already) and it was a success! The only downfall is there is a tiny bit of H remaining and the scar widened in the middle...
Here is a before pic
one week after surgery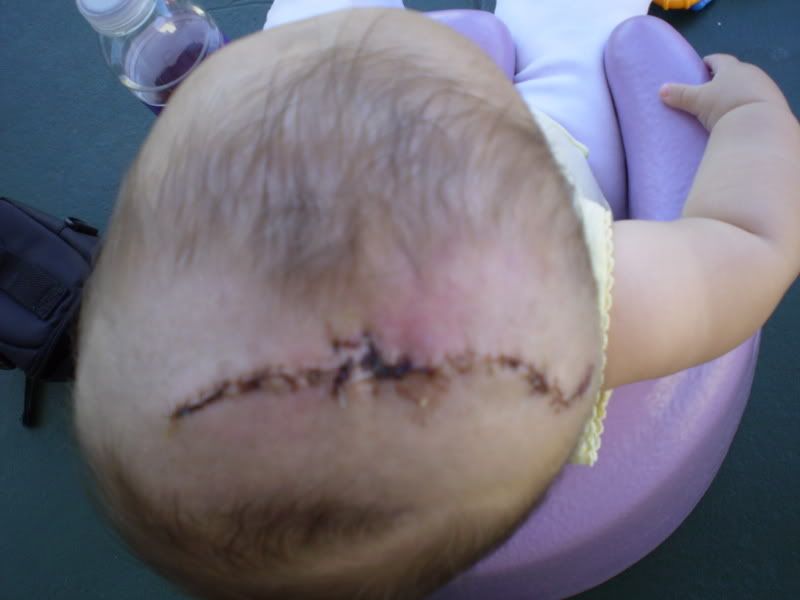 and 4 months after surgery, as you can see widening in the middle...
We were also treating her for plagiocephaly, flattening of the head, with helmet therapy, so weve been through a lot! She is out of the helmet as of 1/7/08, with a much rounder head, and no hemangioma! She has come so far :)
So, I was wondering if any of the post surgery babes had any remaining H left after surgery (her's was large, about 6 cm/diameter) or widening of scar tissue??? Good to be back, I hope to talk to you all soon!
Anna, mom to Emily, 11 months, removal surgery 9/4/07 for ulcerated H on scalp.
| | |
| --- | --- |
| missy | 01-20-2008 11:27 PM |
---
I have no advice to give... other parents will be around soon! I just wanted to say hi and welcome back! Emily looks great, I think! How did she handle everything?

Missy
| | |
| --- | --- |
| annalbc | 01-21-2008 01:28 AM |
---
hi Missy! thx for the reply!
she was such a trooper through everything, we were the weak ones! lol
the day after surgery she was just smiling away :)
there was one little complication like a month ago one of the scabs that was left started to get infected, so we had to treat with antibiotics, but besides that, she has done great! thx for asking!
hope to hear from more of you soon! :p
All times are GMT. The time now is

02:40 AM

.
Powered by vBulletin® Version 3.6.5
Copyright ©2000 - 2016, Jelsoft Enterprises Ltd.