| | |
| --- | --- |
| sara beth | 05-06-2008 10:13 PM |
---
grandbaby's hemangioma

Hi, I am new here. I found this forum while researching hemangiomas. My daughter had her baby on Jan. 31 of this year, at 30 weeks, after having placental precreta and requiring a hysterectomy. At about two weeks, the baby had what looked like a red rash on her neck. After going home at one month, she had a large "lump" on her neck and the rash was spreading and becoming very red. It was diagnosed as a compound hemangioma. The poor baby is hospitalized for the third or fourth time with this "thing" on her neck. It has ulcerated and is very painful. She is in Cook's Childrens Hospital in Fort Worth with iv antibiotic therapy and steroids. I am afraid of staph infection. I am hoping they will maybe try the laser treatment, but no idea if that is in the picture or not. They are saying if the steroids don't work, they will try chemotherapy! This is scary to me, as she is still very tiny, only about nine pounds at three months. I think I am looking for some advice and maybe some reassurances that she will eventually be ok. I can live with a scar, I just want the baby to be happy and pain free!! Any advice will be welcomed.
Sara Beth
| | |
| --- | --- |
| EJsMommy | 05-07-2008 01:54 AM |
---
Hi Sara,

You should document the Hemangioma and its growth with photos and send any info you can to a specialist in Vascular Anomalies. I am going to see Dr. Waner (the best there is) for treatment of my daughter's Hemangioma. He will consult via email, although he is very busy, and he will get back to you. Chemo sounds like a lot to put a young baby through, but maybe there are other options that you could find out from a specialist in the field.

I hope that everything works out. Most doctors do not understand the emotional strain that Hemangiomas put on families of babies, especially since you just want them to be O.K. and happy.

Please hang in there and be strong. I hope you can get some answers from someone who knows Hemangiomas!
| | |
| --- | --- |
| sara beth | 05-07-2008 02:45 PM |
---
Thank you so much for answering! It helps just knowing you aren't alone in this journey. I will try to contact Dr. Waner today. I appreciate all of your good advice.
Sara
| | |
| --- | --- |
| mommy2 | 05-07-2008 03:02 PM |
---
Sara - Hang in there & know that you are NOT alone in this. Without a picture it's hard to tell anything for sure but I would recommend emailing Dr. Waner to get an opinion. Surgery may be a better option than putting the baby on chemo drugs. It sounds like the hemangioma is rather large, which means that lasers most likely will not be an option at this point.

Sarah
| | |
| --- | --- |
| sara beth | 05-08-2008 12:34 PM |
---
Here is one when it was just starting out. It was only a bump with a red place at first. I will try to find one from recently, but the deep hemangioma is so big, it keeps the red, tender part squished between her cheek and shoulder.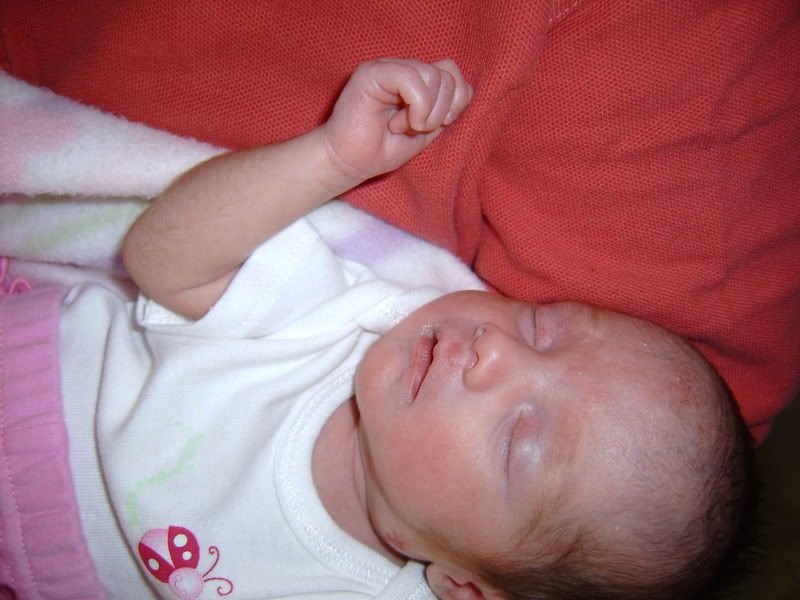 These later pics mostly just show the "bulge". The red surface hemangioma is under her neck and on her shoulder.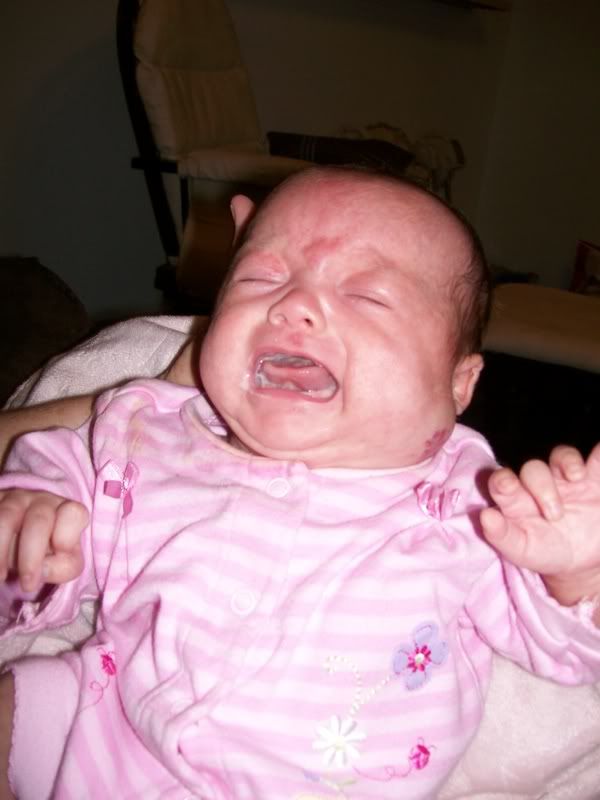 Her mom sent me a picture of it on her phone, but you can't tell too much about it. I will try to get a picture when they get home from the hospital. Thank goodness they decided against putting in a pick line for antibiotics this go round! I hope I posted the pictures correctly. Thanks for the responses. It means so much to me.
Sara
| | |
| --- | --- |
| jgoodman0814 | 05-08-2008 02:48 PM |
---
please let your daughter know that this may be what seems to be the beginning of a long and stressful journey, but that this website and others out there will help her along the way. i know that when i needed someone to talk to or even just vent about what was going on with my daughters hemangioma, this site helped. getting in touch with others our there that were going through the same things we were was key for us. and getting in touch with people who pointed us in the right direction. although i have to say that making decisions was not always easy and sometimes make you second guess yourself. tell her to trust her first instinct. altough we still have a long journey ahead of us, things are looking hopeful. Ava no longer deals with ulcerations and is no longer in any pain. we just now have to wait for her hemangioma to involute enough to be removed. dr waners group is wonderful and very informative! we chose a different dr that was closer to us though who happens to be the best in this area and go on june 10 to talk about removal! good luck with everything! by the way, shes beautiful!
| | |
| --- | --- |
| sara beth | 05-11-2008 10:35 PM |
---
Thank you Jessica. I think she is beautiful, but I might be a bit biased! I babysat last night and got some photos of her hemangioma. It seems that the steroids are helping, it is not as red and angry as it was, and her mom says that the CH is shrinking a bit too. I was relieved, as the ulcerations seem to be healing too. Here is the picture:
Hugs,
Sara
| | |
| --- | --- |
| kttycat340 | 05-12-2008 03:47 PM |
---
hi sara,

my name is Catherine and I am also from the Fort worth area. I had preemie twin girls at 31weeks. they are now 4 months. one of the twins Margaret has a large compound hemangioma on her nose. She has been on steroids for 4 weeks and her pediatric derm is trying to ween her off but has a feeling its going to get much larger. He also told me for my daughters hemangioma that they would wait till she is 2yrs to even start laser treatments. I have contacted Dr. Buckmiller at Arkansas Childrens to do the treatments, and she wants to start as soon as insurance approves it. Just thought I'd mention Arkansas Because it is closer. Hope your granddaughter is doing well!!
| | |
| --- | --- |
| yoopertroll | 05-13-2008 01:12 AM |
---
I believe Dr. Metry is in the Dallas area it might be the Houston area. She is a specialist in Hemangiomas. You might want to contact her. With your granddaughter's location has she been screen for PHACES? Dr. Metry also specializes in this.

Barb- Mom to Veronica aka Roni large facial hemangioma and mild PHACES. Has had 7 lasers and lower lip reconstruction.
| | |
| --- | --- |
| sara beth | 05-13-2008 10:20 PM |
---
Hi Catherine and Barb! I don't know if she has been screened for PHACES or not, but they did do an MRI on her and there were no more hemangiomas inside her body. I am not familiar with PHACES tho, but I expect that they may have screened her for it. She has seen surgeons, dermatologists, hematologists, pediatricians, etc..surely someone would think to test for it? Should I insist that they do it if they haven't? Thanks for writing!
HUGS,
Sara
All times are GMT. The time now is

11:53 PM

.
Powered by vBulletin® Version 3.6.5
Copyright ©2000 - 2016, Jelsoft Enterprises Ltd.