| | |
| --- | --- |
| Casey | 04-29-2013 03:36 AM |
---
Hemangioma in corner eye

I am new to this forum and hoping to get some advice..my 11 week old son has a hemangioma growing in the corner of his right eye. It appeared approx. 2 weeks after birth and has been growing; it's the size of a larger mole and getting thicker.

My doctor said it should go away over time, but my husband and I are concerned about it's location. Should we see a specialist? Should it be removed?
| | |
| --- | --- |
| missy | 04-29-2013 01:47 PM |
---
Hi and welcome!
You should see if you can find a specialist. Hemangiomas near the eye usually do require treatment as they can sometimes distort the eye itself and affect vision. Where are you located?
If you post a photo, people will find it easier to comment.
Also, if you go to
http://birthmark.org/experts.php
you can ask one of our experts as well.
Missy
| | |
| --- | --- |
| Casey | 04-29-2013 06:45 PM |
---
Hemangioma in corner of eye, photo update

1 Attachment(s)
We are located in Ontario, Canada.
| | |
| --- | --- |
| missy | 04-30-2013 11:34 AM |
---
Any chance you could go here:
http://www.sickkids.ca/PlasticSurger...nic/index.html
My opinion is that you do need to have a specialist look at it. Hemangiomas can grow rapidly and, even if it needs no treatment, you would be wise to have established a relationship with a physician, rather than have to wait to get in later when you might need to do something quickly.
Let us know how things go!
Missy
| | |
| --- | --- |
| smurph | 05-01-2013 02:19 AM |
---
Hi! I was going to echo what Missy said. I would get it checked by a specialist because of its location near his eye. Good luck and welcome to the forum!
Shannon
| | |
| --- | --- |
| Crobbins | 05-01-2013 02:37 AM |
---
my DD had a H on her lower right eyelid.. it appeared 5 weeks after she was born. She was treated by a team of drs.. (pediatric ophthalmologist, pediatric dermatologist, & pediatric cardiologist) -- it was determined that the H was beginning to interfere with her vision... so we didnt really have a choice we had to do something. She went on propranol at 12 weeks and was on it until about a year. Did WONDERS -- when she started the H was about the size of a large pea-- by the time she finished treatment it was gone with just a bit of extra skin in its place that I was told she will "grow into" She just turned 2 and we have her yearly follow up appts with her drs next week- I would NOT hesitate to do the propranol -- it was a lifesaver for us.
Few pictures... the day she started treatment and her at 10 months.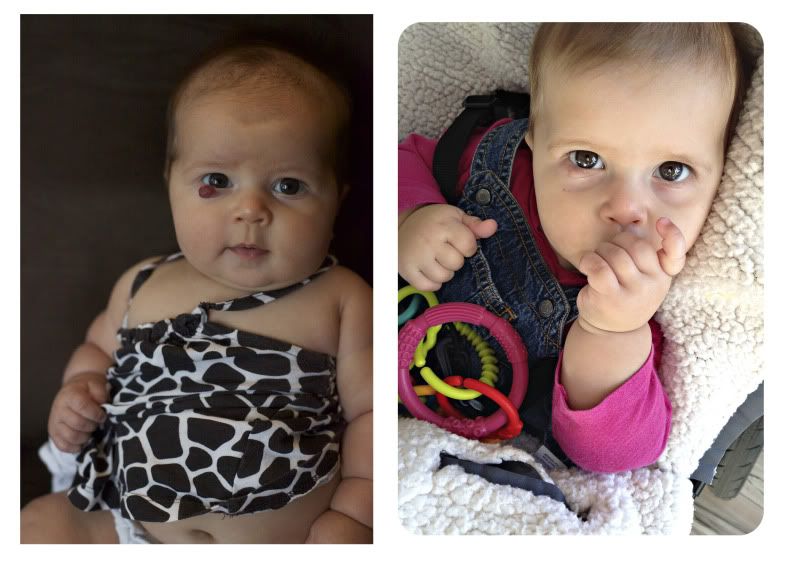 her at two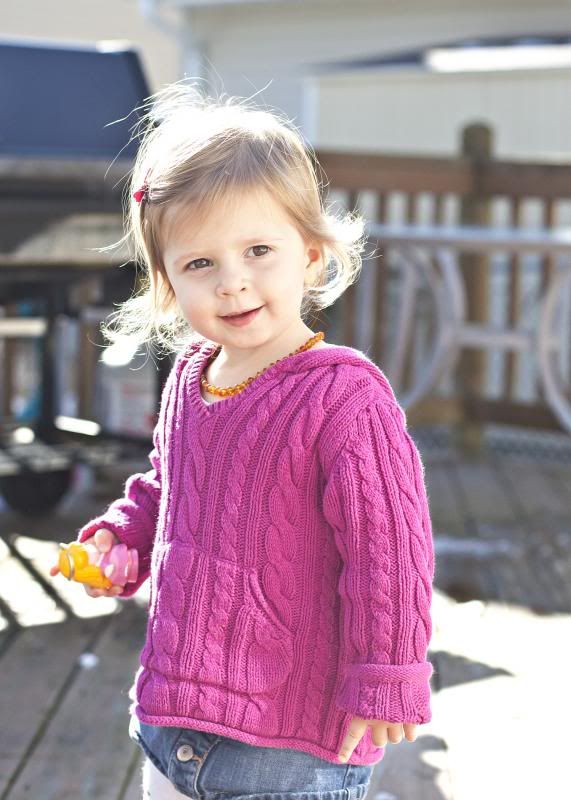 good luck to you guys..if I can answer any questions please dont hesitate to ask!
| | |
| --- | --- |
| Casey | 05-01-2013 05:21 PM |
---
Thank you so much for your reply! Your daughter is adorable and her story gives us hope for our son's hemangioma...I'm worried about doing anything too invasive due to the location. Are there many side effects or long term affects associated with propranolol?
| | |
| --- | --- |
| Crobbins | 05-02-2013 02:45 AM |
---
you bet! I remember being exactly where you are right now and it was really really hard to just have a sea of uncertainty looming ahead of you.

She had no issues with the propranolol. Before she started she had a full cardiac work up .. EKG, cardiac ultrasound etc.. and then she and I spent 6 hours as inpatients at the hospital when they administered the first dose to check her vitals over 6 hours.

She never had any issues with propranolol..She was on it 2x a day-- I nursed her before she got it in the morning and right after she got it at night. No issues. In fact, I think since she had to take medicine 2x a day via a syringe it is very easy now to give her medicine like tylenol/motrin when she is sick.. she doesnt fight it at all. funny right?

pls let me know if i can answer anything else!
All times are GMT. The time now is

04:01 AM

.
Powered by vBulletin® Version 3.6.5
Copyright ©2000 - 2016, Jelsoft Enterprises Ltd.