| | |
| --- | --- |
| kfarver | 05-09-2013 11:34 PM |
---
Looking for support for daughter's hemangioma in Denver

I am a first time new mommy and my daughter has been diagnosed with a hemangioma on her head just to the side of her soft spot. It has grown quite a bit in the last two weeks and it brings me to tears every day. I know I should be thankful for all the good things and health she has but I have already gotten stares and questions from strangers and I want to do all I can to get her the best care. I am a teacher and I knw how cruel kids can be so if I can do anything now to save her emotional distress in the future I will do so (with her safety always mst important). I am taking her to a pediatric dermatologist next week but more or less need support for myself right now. I am so fearful of what this can turn into and just overall feeling overwhelmed and sad.

I also think it is of the "mixed" nature (deep and superficial) and wanting to know if this makes it worse, harder to treat, longer to involuted etc... Anyone that can offer any advice or support would be greatly appreciated.

Krista
| | |
| --- | --- |
| Crobbins | 05-10-2013 01:34 AM |
---
HIYA!
I have included my story/pics below .. I remember being at the beginning of our journey and it was a really hard place to be.. uncertain, feeling vain (my DDs was on her eye lid) cuz you want it GONE but not knowing the best approach to doing that.. A pediatric dermatologist is a great place to start--
my DD had a H on her lower right eyelid.. it appeared 5 weeks after she was born. She was treated by a team of drs.. (pediatric ophthalmologist, pediatric dermatologist, & pediatric cardiologist) -- it was determined that the H was beginning to interfere with her vision... so we didnt really have a choice we had to do something. She went on propranol at 12 weeks and was on it until about a year. Did WONDERS -- when she started the H was about the size of a large pea-- by the time she finished treatment it was gone with just a bit of extra skin in its place that I was told she will "grow into" She just turned 2 and we have her yearly follow up appts with her drs next week- I would NOT hesitate to do the propranol -- it was a lifesaver for us.
Few pictures... the day she started treatment and her at 10 months.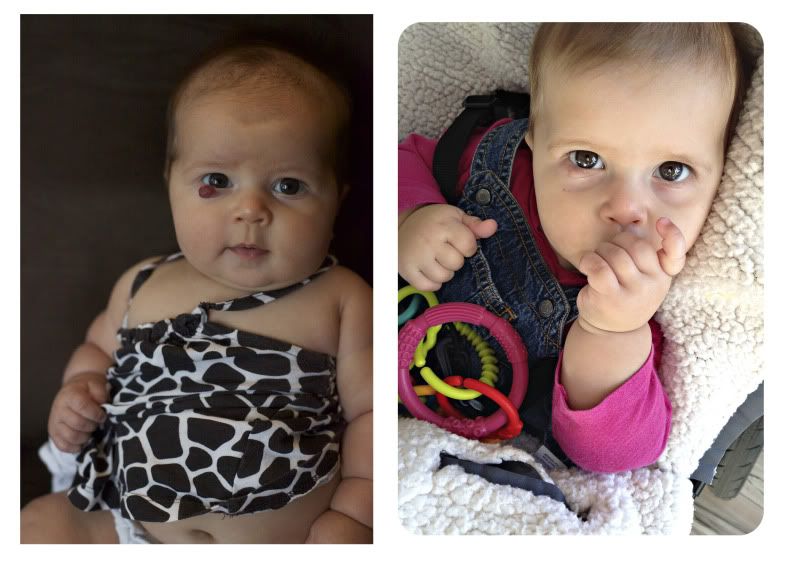 her at two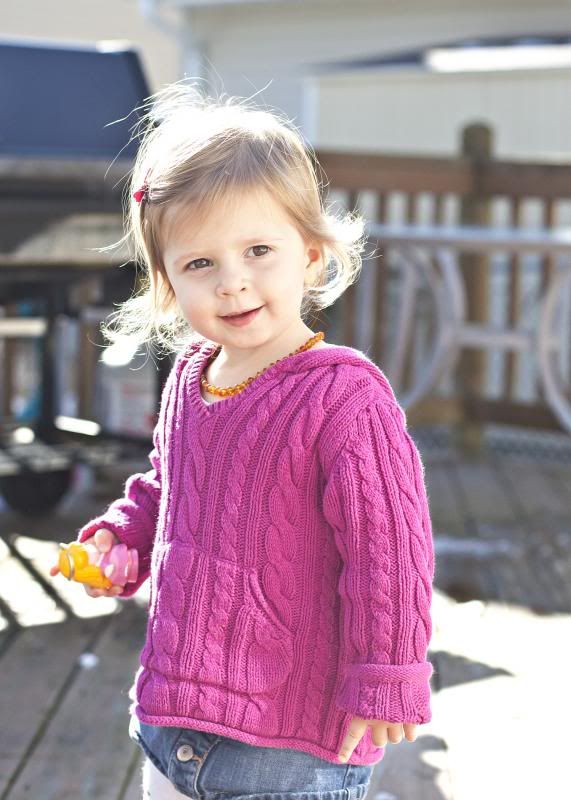 | | |
| --- | --- |
| smurph | 05-10-2013 04:24 AM |
---
HI Krista,
Being a new mom can be overwhelming and exhausting and then to have something unexpected like this come up it can be pretty stressful. So how you are feeling is certainly understandable. I remember feeling the same way and just being really, really worried and confused about what to do for treatment. I am a teacher too and I was very concerned about what the future would hold in terms of school, etc. One of my daugthers has a lip hemangioma and another had one on her hand. My older daughter's lip hemangioma did have some treatment (steroids, surgery and laser)...my younger daughter's was really big and went away on its own. (I didn't think it would, but it did! Couldn't believe it...esp. after everything we had been through with my older daughter.) Both of their hemangiomas were more or less non-issues by the time they hit school age. Kids did occasionally say things to my older daughter but it was never really bothersome to her...although she did mention that it was annoying at times. Then she had her laser and nobody really even notices now. She didn't even start to care about it until the end of kindergarten. She is now in second grade.
So I would just like to reassure you that time is on your side! It is great that you are going to see a specialist and they can let you know about your treatment options....once you make some decisions about that, one way or the other, I think you might feel your anxiety level coming down. I know that's how I felt anyway. My kids' hemangiomas were in different locations than yours so I'm not sure what they will recommend but check in back here after your appt and sometimes it just helps to talk it out with others who have been in similar situations. Good luck! Hang in there!! And try to get some sleep! :)

Shannon
All times are GMT. The time now is

06:16 PM

.
Powered by vBulletin® Version 3.6.5
Copyright ©2000 - 2016, Jelsoft Enterprises Ltd.