My name is Katie, and I have a 3 month old daughter with a port wine stain on the left side of her face from the upper lip to the top of her nose, and then over to the temple. I live in the Saint Louis MO area. She has been examined by a pediatric opthamologist, and she is being seen by a pediatric dermatologist, Dr. Bailess, formerly known as Dr. Susan Mallory. She is scheduled for her first pulsed dye laser treatment in June. I just have a couple of questions for those people out there who may know:
1.) the doctor explained that peak lightening would probably occur around 6 treatments. Some people on this forum have stated that they have had quite a bit more than this...is this because of the degree of their PWS, or is it just because they have gone back for further treatments once the PWS re-darkens?
2.) My daughter's PWS is in the V2 region. The MRI has not yet been scheduled - should I put a rush on this with the doctors? She has not demonstrated any sign of seizure.
3.) Does anybody know about Dr. Bailess/Mallory? Is she a good doctor to see?
4.) If the pulsed-dye laser does not achieve any lightening, are there other treatments available? I do not expect her PWS to disappear, but for her sake, I do hope that the treatment does have some effect.
Here is a picture of her, so that you can see what her PWS looks like: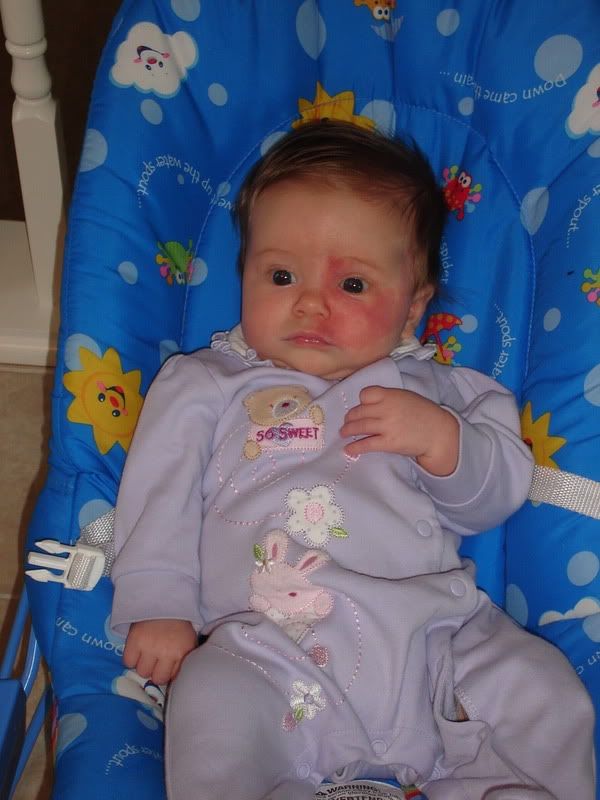 Thanks for any help/answers I might get. I appreciate it.