I had an account here but haven't been here in ages. I couldn't log in so I had to recreate my account.
My daughter was born at 37 weeks, due to my pre-eclampsia. She was perfect in every way, except for the bright red birthmark on her thigh. But around 5 days there seemed to be a brighter spot in her stork bites. Having been on a parenting forum where a woman had a daughter with one I just knew it was a hemangioma. The ped confirmed it with me. At 2 months one appeared out of no where on her elbow. Thankfully it remained small. But the ped had informed me the one on her thigh was no ordinary birthmark but a hemangioma as well. He said if anymore appeared they would do scans to check for internal ones. Thank god no more appeared!
Today its faded tons and is lots smaller. I thank god it never got to large or had any complications! She has only broken it open once when she fell. Having her walk around and play outside scares the crap out of me because she stumbles a lot and falls and it freaks me out she will break it open again. I can't wait till its gone!
The ped said by around 3 the forehead one should be gone and by puberty the thigh one should go away. The elbow one is fully gone now with no scarring. I have a feeling the one on her head will leave a scar. I am just thankful her bangs have grown lots so it hides it now. I get so tired of the stares and people asking "what's wrong with your daughters forehead" or "where did she get that bruise on her forehead?".
Here she is at 1 day old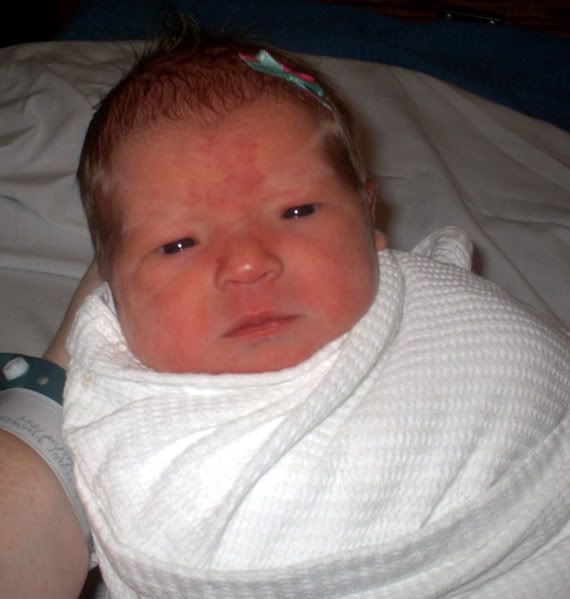 Here is the progression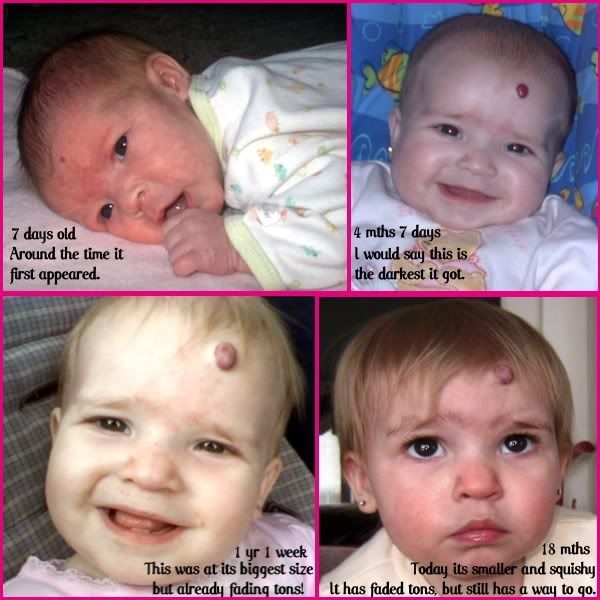 And here is her thigh progression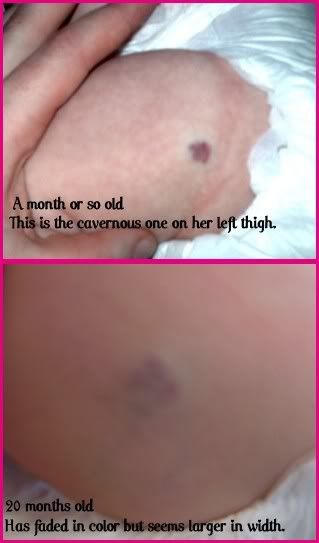 __________________
My daughter Brenna was born with only the cavernous hemangioma on her left thigh. But soon wound up with 2 superficial ones as well. We are happy that it is involuting nicely with no complications! And thankfully she has only ever broken it open once! Scared mom to death, but we made it through!
Here are some pics of her hemangioma's
http://i21.photobucket.com/albums/b2...na/bheman1.jpg
http://i21.photobucket.com/albums/b2...na/bheman2.jpg